BUILDING WORKS

Site survey

Our engineers will carry out detailed investigations to supply you with important site information before starting your project. This includes geological and topographical surveys, volume and elevation calculations, condition and demolishing surveys (for existing buildings), survey reports.

Soil investigation

A successful building work requires attention to the site conditions. Exploring the site before starting the building works can lessen many problems in the future lifespan of the building. Using the latest technology we provide soil investigation for every type of project - from small to larger ones. The process includes surface and subsurface exploration.

Piling and underpinning

Varaks will make sure that the most essential part of your building, its foundation, is reliable and stable. We provide piling services as a beginning of the building process. Also our high quality underpinning services will strengthen your existing building's foundation.

Concrete and shuttering

Equipped with variety of concrete pumping machines, as well as shuttering to support the sides of trenches, concrete laying is just another service of ours you can take advantage of.

Steel frame and reinforcement

This building technique allows a grid of vertical steel columns and horizontal beams to support the floors, roof and walls of the building. Additionally the reinforcing steel increases the strength in a safe manner.

Brick masonry

Varaks provides wide range of masonry work in both commercial and residential masonry. Whether you want to restore the look of your building or a new project is on its way our specialists will do accurate and beautiful brickwork.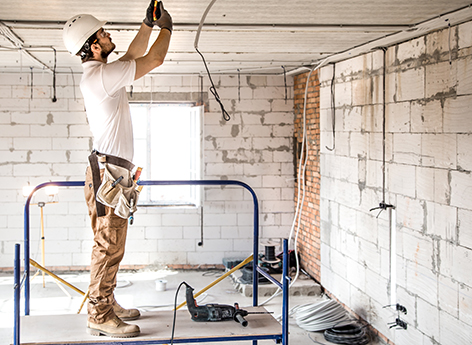 Roofing
Roofing a building is as important as creating its groundwork. We have built different types of roofs throughout our many years of experience. We do realize that along with the aesthetics of the roof it is always its safety, its endurance and its protection that matters. That is why you can completely rely on our well skilled team with this task.
Plastering
Plastering and rendering can be done with variety of plasters on the exterior and interior walls and ceilings of the building. Using different techniques our plasterers will coat the walls and ceilings according to your wishes and needs.
Painting and decoration
This service adds the final touches to the building process. Painting is always related to the aesthetics of the building but it can also improve its protection from weather conditions, mould and rust. Contact us for painting and decoration of external and internal walls and ceilings or if you simply want to refresh your house in no time on a reasonable price.

You can obtain each of the above stated building services in Varna, Balchik, Kavarna, Albena, Dobrich and Shabla areas.