Progress of the works
The ledgers are fastened to the house. Then the posts and the beams are fitted on metal posts, forming the base of the structure. After fitting the rafters, the workers start fitting the rest of the lumber on top. Waterproof membrane is then fitted.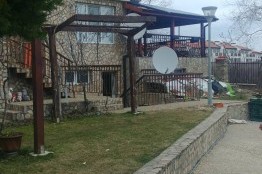 Beginning of the works
The works on this house attached patio roof in village of Rogachevo began with supply of the timber for the structure. The beams are carefully unloaded and processed by Varaks' workers.